A powerful tool for sales and service teams.
Opendoor supports sales operations at every stage of the process.
Opendoor is a Sales and Lead Management platform developed with internal expertise of sales management. The solution has been crafted and refined through real user insights to meet the needs of direct sales professionals.
The Opendoor Solution uses mobile and web-based technologies to solve productivity challenges for reps in the field and sales managers alike. For users, the journey starts with data management.
Import your entire footprint of serviceable records, with the ability to manage millions of addresses. Opendoor's automated processes will update your records with daily or weekly data refreshes.
Each
serviceable address
serves as the foundation of leads in our system.
Opendoor
can accept and calculate valuable data points.
Standard values such as: Names, address components, market area, node, customer status, and geocoding.
Values for specific uses like: Product eligibility, eligible offers, prepay flag, lead scoring, and more.
The Opendoor Solution automatically updates your records as active leads move through your sales pipeline. Sales reps will have the most current available data when they initiate contact with prospects.
Opendoor offers users an intuitive visual interface that organizes and displays your serviceable records on an interactive map or a well-composed list view. Records are automatically filtered into an organizational hierarchy that you can adapt to your needs:
Use Opendoor to associate records down to the team level so supervisors can effectively manage their assigned territory.
Peer-to-peer access also allows leaders to support each other across the organization, enabling data sharing and quick communication.
Opendoor logs assignment activities so you always know the last time a lead was assigned, who it was assigned to, and what the outcome was. Leaders can use this data to identify what areas to work next.
Use Opendoor to configure and enforce your active lead policies, such as:
Ensure only one instance of each active lead.
Set a limit on address reassignment, configurable to your current sales strategy (such as no reassigning of addresses worked within the last 90 days).
Lead policies can be configured according to your schedule and your plans.
Managers and leaders can use Opendoor's lead filters to focus on subsets of eligible leads. Our web and mobile applications feature role-based security so certain filters can only be accessed by leaders on your team. 
Leaders have several options to view, select, and assign eligible leads. Each view allows them to create assignments for multiple reps at once and displays running totals of assigned leads for each rep.
List View: Configure your view, for example: Rolled up by zip code, street, or any other data point. Explode to display details for each address, including the previous date and rep assigned. Simply click and select to assign.
Map View: Each address is represented by an icon on an interactable map. In Map View, users can draw polygons to create a turf area, then select and assign teams.
Each lead you assign can feature a sales cycle start and end date that will be set according to your own specified sales periods. 
Opendoor's Mobile Application gives leaders even more ways to plan and manage territories. The app can be configured to limit sales reps' view of assignments to current and prior sales cycles only. This allows leaders to plan territory management several cycles in advance, only revealing current assignments to their reps.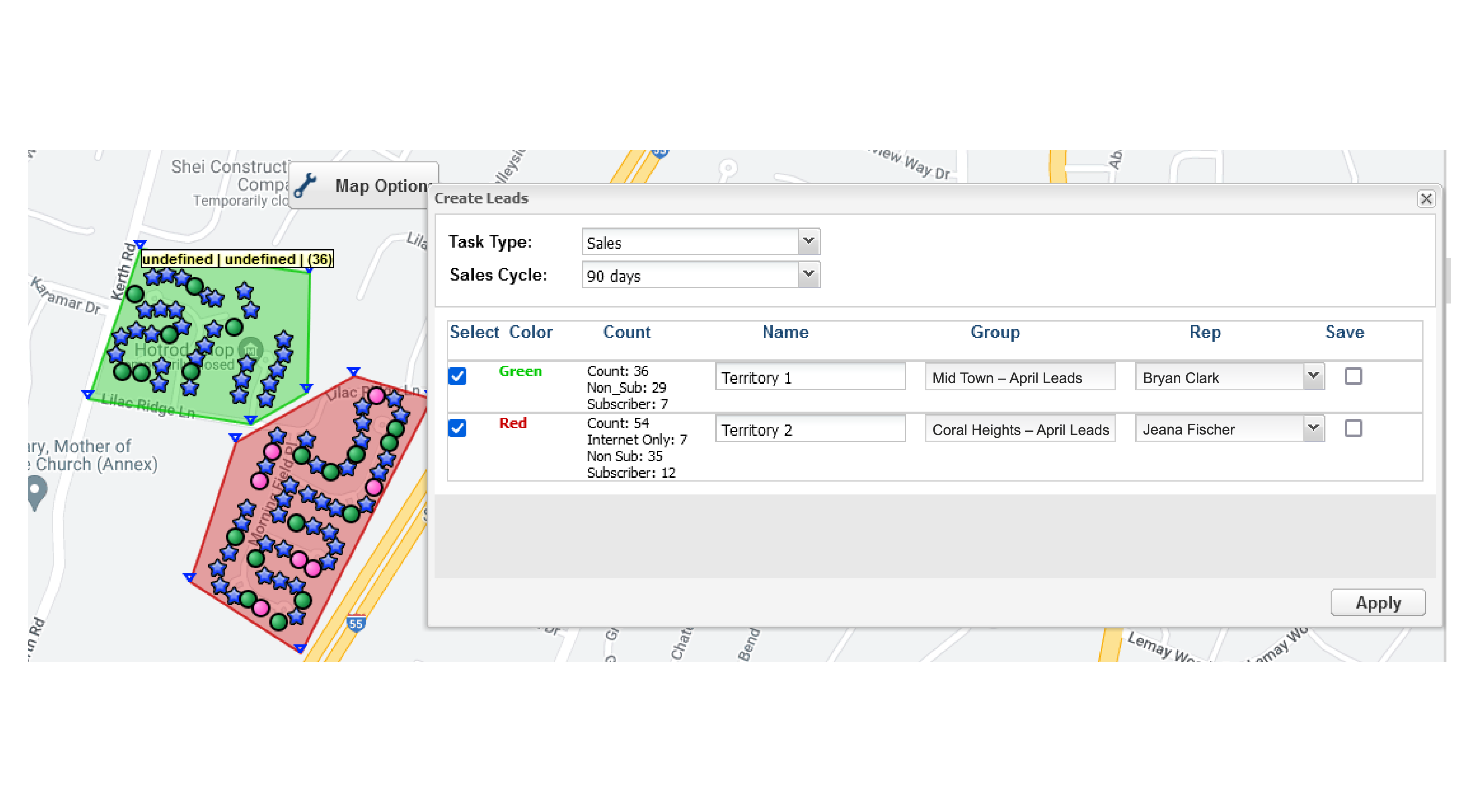 Mobile Application – Lead Management
Sales reps who use Opendoor can see a clear visual representation of leads with their Mobile Application. Reps are able to see the leads they are currently assigned. Updates to existing leads are rolled out to the mobile app automatically.
The Opendoor Mobile Application offers multiple options to filter groups of leads. Filter by:
Lead status
Last disposition date
Miles from your location
Other configurable filters

Sales reps can use the Opendoor app to easily view leads using a list format or on an interactive map. Each view provides clear visual markers with icons and color codes to show the status of each lead.
Both views allow reps to disposition a lead. Managers can configure their own list of disposition options and incorporate unique rules and workflow. The application also supports multiple lead types, each with its own configurable workflow.
The Mobile Application's workflow lets reps easily track their progress on each lead. Reps can see a date, time, and outcome for each sales visit. Depending on the outcome, different options will be available to the rep for disposition.
Improved Organization & Communication in the Field
The Opendoor Mobile Application enables sales reps to easily capture notes and set appointment reminders. When an appointment reminder is set, Opendoor can automatically sync with the rep's Outlook or other mobile calendar, ensuring they remain aware of all appointments.
No cell service? No problem. The Opendoor app captures all activity from each sales rep even when cellular connectivity is lost. Once connectivity is re-established, all stored content and updates are seamlessly and automatically forwarded to our server.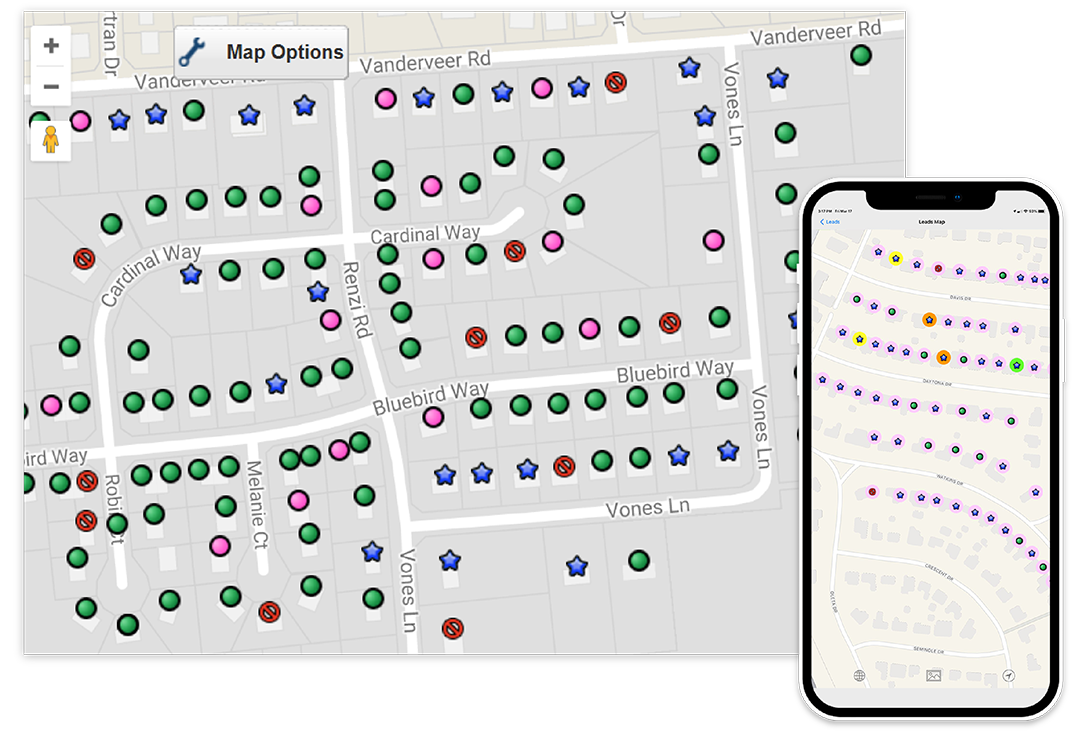 Sales Managers use Opendoor's powerful GPS technology to ensure efficient operations for teams and individuals. Opendoor maintains useful information for each sales rep, including Sales ID and reporting relationship.
GPS tracking capabilities empower managers and leaders with rep locations on an interactive map. 
With this view, leaders can monitor the location of dispositions in relation to the address of leads. A walk sequence of each rep is available to ensure turf compliance. You can even review stops on the map to see how long a rep spends at each location.
Reps and Leaders can have access to the same set of metrics via custom Dashboards, ensuring everyone is on the same page and working from the same set of facts.
The Opendoor Solution generates valuable reports, including actionable data you can use to improve sales productivity. Leaders get reports on sales activities at all levels – by management area, supervisor, or for individual reps.
Key reports include:
Lead Details: Shows one row for every assigned lead with details such as: the Rep the lead is assigned to, who assigned it, and when.



The report shows the timestamp of the last sales presentation, the outcome, how many times the lead has been targeted, etc.
Data is presented in a flat file so it can be easily imported into client reporting databases.
Activity Details: Offers details for every disposition, including the lead, rep, and sales outcome.



Each row is date and time-stamped, and reveals whether the rep was within an acceptable distance from the lead when their disposition was submitted.
Time Track: Provides a summary view into a rep's activity in the field. The report conveys what time the first and last dispositions of the day were submitted, and recaps key statistics such as presentation and close rates.



Time Track builds over the course of a week, giving a clear snapshot of your team's efforts in the field.
Custom reports can include:
Commissions Support: Displays information on every assigned lead, including: date assigned, assigned by, assigned to, and when the lead expires.



Each lead is tied to the Rep's Sales IDs or other values that objectively identify the Rep.
The report can also capture values like eligible offers when the lead was assigned, to ensure correct commissions can be calculated for each successful sale.
Dashboards: Reps have a graphical view into their daily and monthly performance levels from the mobile application, which highlights key metrics showing how they're progressing towards sales goals.

Leaders have access to this information (for all members of their team) through the Opendoor Hub, so everyone is working from the same set of data for feedback and coaching purposes.
Lead Assignment History: See a complete view of assignment events including: date assigned, assigned by, and assigned to.

Highlights leads that are canceled or completed and provides field reps and leaders a full historical view.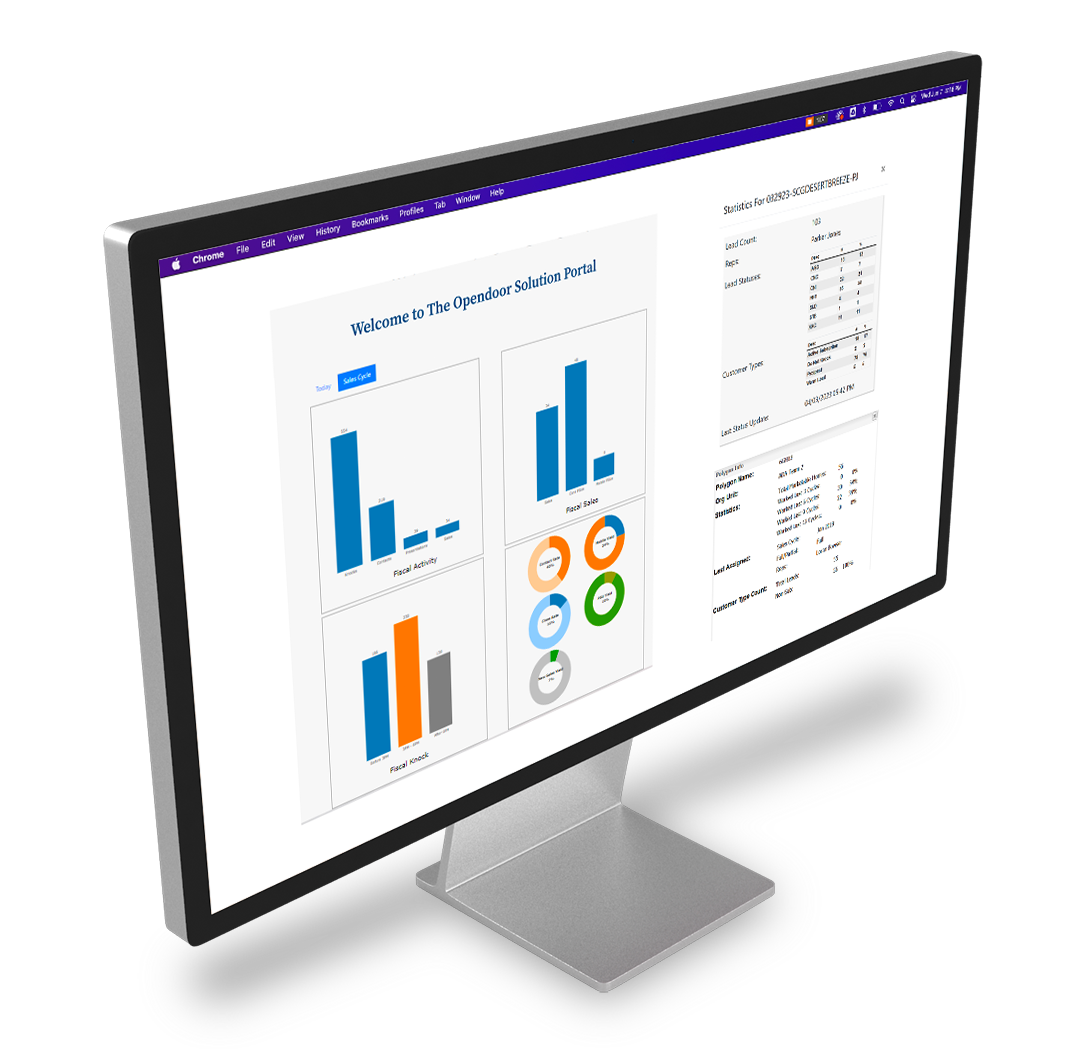 Ready to learn more?
Schedule a demonstration today!